Define yourself as an
HR Leader
withSHRM Certification
Register Now
Don't miss the chance to demonstrate that you are a globally recognized HR expert.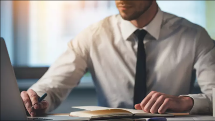 SHRM's global HR credentials, SHRM-CP and SHRM-SCP, offer growth, advancement and recognition. These credentials are based on extensive global research involving employers, academics, and practicing HR professionals at all levels to ensure they maintain an industry-leading level of excellence and relevance in this ever-evolving profession.
By becoming SHRM certified, you prove your knowledge, competency and value to colleagues and to employers looking for a competitive edge in today's global economy. Wherever your career takes you, your SHRM certification will define you as an HR expert and leader.
Ensure you're prepared with our course designed for SHRM credential candidates. Expand and test your knowledge and practical, real-life competencies in areas critical for HR career success.
This intensive 5 days program combines expert instruction with the 2018 SHRM Learning System®, so you will learn faster, retain more knowledge and stay on track for success on the exam.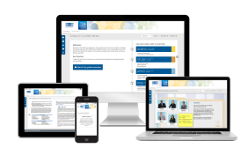 Our course includes the 2018 SHRM Learning System.
Define Yourself as an HR Leader with SHRM Certification
Resources to help you engage your boss successfully.
For many HR practitioners betting your boss to support your HR Certification plans is the best option for us , not just economically, but also because it is the best way to get the important work-life harmony that would enable you prepare and pass.
But the conversation may not be as easy as we would always want it to be. And this is why we are providing you with some tools to structure your discussion or correspondence with your boss, and increase the chances of success in getting his/her approval or buy-in for your HR Certification program.
Earning your SHRM-CP or SHRM-SCP credential makes you a recognized expert and leader in the HR field-and a valuable asset to your organization, keeping you and your organization more competitive in today's economy. This professional distinction sets you apart from your colleagues, proving your high level of knowledge and skills.
Download and use our Toolkit to successfully engage your boss and get the necessary buy-in:
---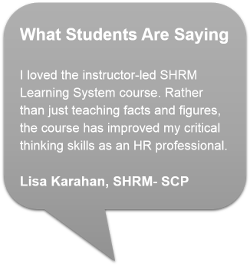 Additional Information
Certification and Product
SHRM-CP/SHRM-SCP Eligibility
Testing Windows and Deadlines
Download Certification Handbook
SHRM Learning System
shrmcertification.org
HR Information
SHRM Resources
Become a Member
Events
shrm.org
Have a question or prefer
to speak to a person?
Call Florence at +(234) 810 922 5590.
Monday – Friday between 8:00 a.m. and 4:30 p.m. GMT for live assistance. Or email us at f.nnaji@skills-farm.com
 Request More Info
Offered in partnership with the Society for Human Resource Management (SHRM), the curriculum provided in the 2018 SHRM Learning System is designed by global subject matter experts and covers the entire SHRM Body of Competency and Knowledge™ (SHRM BoCK™) . Throughout the program HR professionals are encouraged to acquire
the Competencies and Knowledge they'll need to effectively perform their jobs and achieve career success. Our course is designed to help you learn and retain the material effectively and efficiently by combining the best exam preparation system with expert instruction and peer discussion.
Skills Farm's program offers you a preparation course to help meet your needs and increase your success on the SHRM-CP and SHRM-SCP exams.
Benefits To You
You'll benefit from:
An experienced, SHRM-certified instructor.
The SHRM Learning System, historically ranked the #1 HR certification prep tool.
Ability to acquire the knowledge and understand the behavioral competencies to help you prepare for the exam.
A structured learning experience that keeps you on track.
Opportunities to network and learn from your peers.
Eligibility for tuition reimbursement.
Earning up to 36 professional development credits (PDCs) if you are attending this program for professional development only.
Benefits To Your Employer
Certification benefits your entire organization:
It demonstrates that your HR professionals have mastered the application of HR technical and behavioral competencies.
Certification prepares your HR staff to assume greater leadership roles and contribute to the strategic direction of your organization.
Exam preparation helps HR professionals bring new ideas to your organization that will help drive success.
It helps create a common HR language that optimizes consistency and effectiveness.
Certification is relevant worldwide, as exams cover the global SHRM BoCK™.
Our certification preparation course is designed primarily for individuals seeking SHRM-CP or SHRM-SCP certification. Certification is a great choice for HR professionals who want to:
Increase their knowledge
Advance their skills
Earn recognition from the global community

Advance your career.
If you're not interested in certification but want to improve your HR skills, this course provides a comprehensive and accelerated option for professional development. Participants gain a generalist viewpoint, refresh key ideas and concepts, strengthen their understanding of core behavior and technical competencies and increase productivity in the workplace.
Skills Farm courses are specifically tailored to meet the needs of adult learners. Courses are taught by SHRM-certified instructors experienced in the HR field. Students will be expected to complete all assigned readings, and activities prior to each class.
Spring OR Winter 2018 Course Details

Locations
Dates and Times
Contact Information
Course Fees
Skills-Farm Learning Center

#3 Adekunle Odunlami Street, Ilupeju Lagos

+234 810 9225590

Spring session

SHRM-CP/SHRM-SCP
14th – 19th May, 2018
8am – 4pm

Winter session

SHRM-CP/SHRM-SCP-SCP
3rd – 7th December, 2018
8am – 4pm

Florence
+234 810 922 5590
f.nnaji@skills-farm.com
*Self Study: (SHRM Learning System Only)
$840

*Certification Prep Classes Only
$840

*Instructor-Led Intensive prep classes with SHRM Learning System
$1,680

30% off!

$840

You can pay in 2-3 installments for the SHRM HR Certification prep class. Please contact us on +234 810 922 5590 for more details

Terms & Condition apply

Interested in training your team?

Ask about volume discounts or offering a program at your location. Contact Florence at f.nnaji@skills-farm.com and/or Call: +234 810 922 5590

Classroom Sessions Include:

A high-level review of course material
Interactive discussions and learning activities focused on the practical application of HR competencies and knowledge
Sample assessment questions
Study and test taking tips
As an official SHRM Education Partner, we are able to buildour course on the SHRM Learning System, giving you access to themost comprehensive, effective and up-to-date exam preparation toolsavailable. The 2018 SHRM Learning System delivers:
EFFECTIVE AND PROVEN RESULTS. Candidateswho use the SHRM Learning System consistently beat the average exampass rate.
ONE SOURCE FOR KNOWLEDGE AND APPLICATION.All the study tools you need to understand, apply and engage withbehavioral competencies and HR knowledge.
CURRENT AND RELEVANT CONTENT. The SHRMLearning System has been updated to align with the 2018 SHRM BoCK,the defined standard for knowledge and competencies required of HRprofessionals around the world.
CONVENIENT 24/7 ONLINE ACCESS to yourstudy tools from any mobile device, tablet, or computer.
The SHRM Learning System contains modules of study based onthe SHRM BoCK: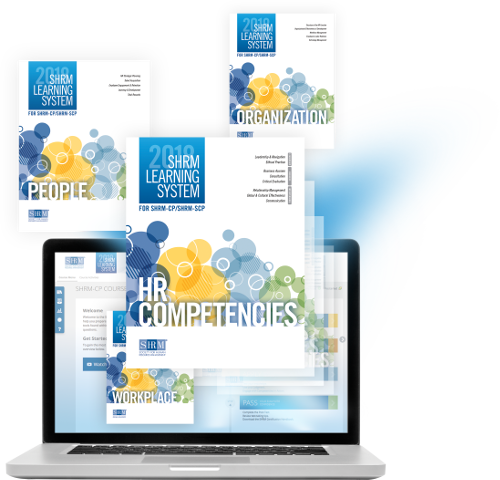 Access each learning module online via the embeddede-reader.You'll be able to navigate quickly and easily fromreading a module tocompleting activities and answeringquestions to check your progress.
If you're looking for uninterrupted access on-the-go,downloadthe modules to your e-reader device.
MODULE // HR COMPETENCIES
Leadership&Navigation
EthicalPractice
BusinessAcumen
Consultation 
CriticalEvaluation 
RelationshipManagement 
Global&Cultural Effectiveness 
Communication 
MODULE // PEOPLE
HRStrategicPlanning
TalentAcquisition
EmployeeEngagement& Retention
Learning&Development
TotalRewards 
MODULE // ORGANIZATION
Structureofthe HR Function
OrganizationalEffectiveness& Development
WorkforceManagement 
Employee&Labor Relations 
TechnologyManagement 
MODULE // WORKPLACE
HRinthe Global Context
Diversity&Inclusion
RiskManagement 
CorporateSocialResponsibility 
EmploymentLaw& Regulations (U.S. Only) 
Cancellation Policy
A registered delegate to any Skills-Farm workshop, event or program may transfer to a future session or alternative workshop,send someone to take his/her place or cancel without penalty at anytime up to three weeks prior to your seminar. If you provide Skills-Farm with less than three weeks' cancellation notice or fail to attend, you will be liable for the entire seminar fee. We appreciate that this is an important investment for you and your company and would like to accommodate your needs the best we can.Therefore, please send an email to disc@skills-farm.com if you'd like to cancel or postpone. For SHRM Learning Systems, the sales is final and we do not process refunds once sold.Call us at +234 809 990 1676 or +234 810 922 5590.